Hidersine Reserve21 Premium Rosin for Violin & Cello
"Based upon a revolutionary new production technique and using only the finest ingredients, Hidersine Reserve21 is an exquisite handmade rosin for violin and cello. Among the ingredients are WW-grade Brazilian resins and British beeswax, which when carefully combined deliver a fabulously low-dust, high grip playing experience."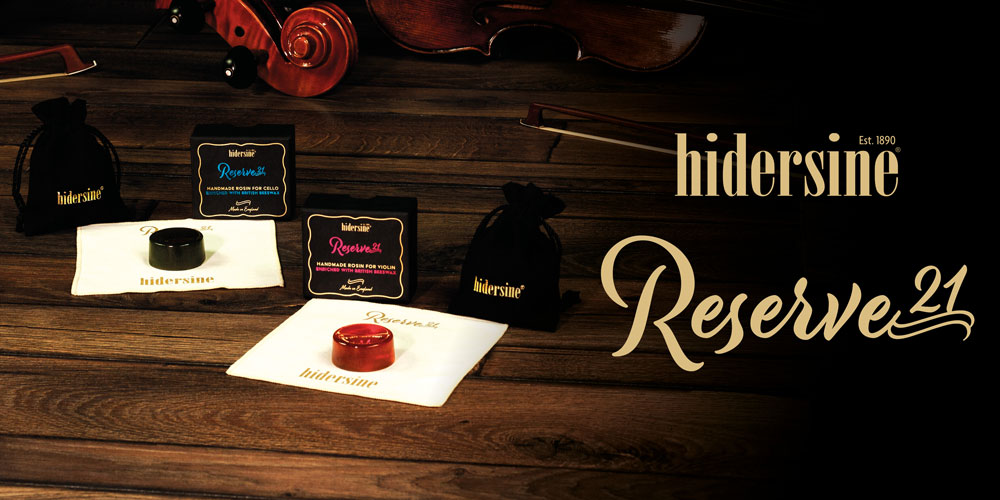 The Hidersine Company and Barnes & Mullins Ltd are delighted to announce the global launch of Reserve 21 premium Rosin. Consisting of 2 distinct rosins for Violin and Cello, Reserve 21 is aimed squarely at the discerning string player, whether amateur or professional.
Hidersine rosins have been recognised as the industry-standard for decades with most every string player in the world familiar with the 130-year-old British company's products.
Building upon a base of fine Brazilian resins, one notably new ingredient in Reserve21 rosin is that of premium British beeswax. Although the exact recipe is closely guarded, with Reserve21, Hidersine have been able to create a very low-dust, high grip rosin formulation sure to delight players of all standards.
Alex Mew, Barnes & Mullins' Marketing Director explains in more detail, "Our UK Hidersine manufacturing facility worked long and hard on this special new recipe, trialling many different iterations until alighting upon this particular formulation. A completely new manufacturing method was devised throughout the Reserve21 development process too. This unique process ensures beautiful purity and clarity without any chemical additives. Knowing how waxes and resins interact to affect – and effect – bow-to-string grip and articulation, our Hidersine technicians set about experimenting with the finest of Brazilian resins and various types of beeswax until discovering a beekeeping family whose waxes were of a particularly high quality."
"Once we found this beeswax combination," continues Mew, "we knew we'd found something very special. So, we locked in supply for the long-term, and Reserve21 was born!"
As all other Hidersine rosins, Reserve21 rosins are handmade in Shropshire, United Kingdom and have been designed to deliver a fantastic level of grip whilst creating less dust than ever before.
Hidersine Reserve21 Violin Rosin is a Light Rosin with a medium-hard consistency and high grip rating; Hidersine Reserve21 Cello Rosin is a Dark Rosin with a medium consistency and high grip rating. Each rosin is distinctly engineered to get the very best from the relative string dimensions of violin or cello.
Each Reserve21 Rosin is presented as a 30g cake poured onto a beautiful, hemmed cloth encased within a custom velveteen drawstring bag. Each bagged rosin is packed into a Reserve21 individual box, with 8 pieces within a master carton.
Hidersine Reserve21 Rosins for Violin and Cello are available now across the world priced around £19.95, or international equivalent.
VIEW HIDERSINE RESERVE21 ROSIN HERE
__
The Hidersine Company was founded in 1890 by English Double Bass player and Chemist, Francis Hider. Since the 1980s, The Hidersine Company has been part of Barnes & Mullins, the award-winning British Musical Instrument distributor. All Hidersine rosins are still made by hand in the traditional Artisanal style in Hidersine's Shropshire-based workshops. View the Hidersine Dealers near you!