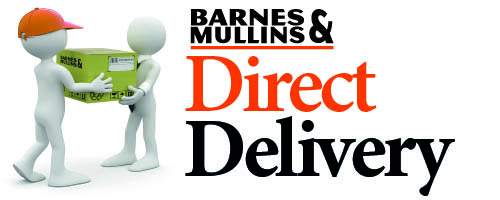 Direct Delivery is only available to approved trade customers of Barnes & Mullins Ltd.
If you would like to discuss a trade account with B&M, please contact us.
UPDATED TERMS FEBRUARY 2018
Your Direct Delivery Process:
Your customer requests a product that you do not have in stock, or perhaps requests a brand new, untouched version of a product they have just tried instore.
You check the product availability online at www.bandm.co.uk or on the phone: 01691 652449
Take full payment from your customer, and tell them it will be delivered directly to them.
You will still be their point of contact, we are unable to liaise with your customer.
Place the order with the B&M sales office or online, ensuring you provide the customer's delivery address, email address and phone number.
We will not be able to ship orders without the customer's email or phone numbers.

Please note: Direct Delivery orders processed online may not show Direct Delivery shipping charges.

International deliveries need to be accompanied by a sales invoice. Our sales office will require an emailed copy before despatch is possible.
We'll ship it to your customer directly.
What else you need to know:
To use this service, your B&M credit account must be within terms and within your credit limit. There can be no exceptions.
We will ship direct to the end user on behalf of your store, and provide full parcel tracking information, automated from U.P.S to you.
We will be able to Direct Deliver any non-main-dealer B&M product, and any major brands for which your store is a Main Dealer.
All elements of the contract of sale will remain with you (the retailer). You are still responsible for the customer's rights. NOT Barnes & Mullins.
If your customer exercises their right to return goods under the distance selling laws, the goods will go back to you (the retailer). We will not re-stock or credit these products.
If your customer receives faulty or damaged goods, they should contact you within 10 days of receiving goods. You should obtain a returns number from our sales office, we will collect from the end-user then repair or replace the product. Proof of purchase is required.
In the event of a warranty claim, the end user must contact you, the store with whom they hold their contract of purchase.
If the delivery to your customer fails through no fault of ours (i.e. Customer not able to receive goods or customer fails to pick up goods from drop off point) the goods will be automatically sent to you and an additional charge of £15 will be invoiced to your account, this is due to return costs of the product. European and international failed deliveries will incur a higher charge.
Shipping & Handling - Refer to Standard and European shipping charges, and Exceptional items charges are shown here: https://www.bandm.co.uk/shipping
We will endeavour to drop ship orders next day when possible - but we cannot - and do not guarantee this.
PLEASE NOTE: YOU, THE RETAILER (NOT BARNES AND MULLINS) ARE ENTIRELY RESPONSIBLE FOR ALL WARRANTY ISSUES AND IT IS YOUR RESPONSIBILITY TO COMPLY WITH THE CONSUMER CONTRACT REGULATIONS 2014
The Direct Delivery service is offered by Barnes & Mullins Ltd who are free to withdraw this offer at any time. Please check prices and stock levels online or via telephone before taking your customer's order. Log in to the trade-only area online to access trade prices and stock levels: www.bandm.co.uk
Direct Delivery Drop Ship Charges:
(Please Note additional charges are applicable for exceptional, large or heavy items. See these charges here.)
If a Faith Guitar is ordered for a drop-ship, each guitar is subject to a £17.50 setup fee, PLUS the drop-ship fee to customer's geographic location. E.g. A Faith guitar drop-shipped within the UK would work as follows: (Guitar Cost + £17.50 Setup Fee) + £7,.50 Mainland UK Drop ship fee.
UK Mainland - £7.50 per order
Scottish Highlands - £29.00 per order
Northern Ireland - £11.15 per order
Rep of Ireland - £15.95 per order
European Shipping:
Austria, Belgium, Bulgaria, Czech Republic, Denmark, Estonia, Finland, France, Germany, Greece, Hungary, Italy, Latvia, Lithuania, Luxembourg, Netherlands, Poland, Portugal, Romania, Slovakia, Slovenia, Spain, Sweden
- £15.95 (No sales invoices required)
Croatia - £15.95 (A sales invoice is required)
Norway - POA (A sales invoice is required)