B&M to appear at ESTA Yorkshire event with Nicola Benedetti
Posted: 04/06/2018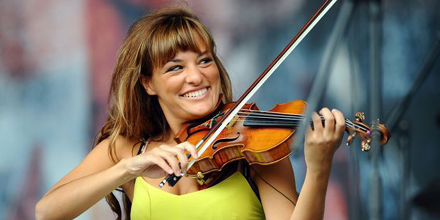 "An educational day with Nicola Benedetti, David Le Page and Robin Michael, designed for teachers and students."
B&M are delighted to be attending the European String Teacher's Association event at 10am Wednesday 4th July 2018. At this prestigious event, Barnes & Mullins will be focusing on the promotion of Thomastik Infeld AlphaYue student strings, and on the excellent and award-winning Hidersine Academy series of student instruments.
--
ESTA Yorkshire welcomes Nicola Benedetti for a day aimed at helping teachers. Nicola Benedetti is passionate about teacher development and fresh ideas for teaching and this is sure to be an amazing opportunity for us all to discuss a wide variety of topics with her.
All student spaces are already taken, but there are some teacher places still available, so sign up now to avoid missing out!
The evening session will consist of performances by Nicola Benedetti, David Le Page and Robin Michael and a presentation of the day's work plus a Q and A session.
Students £15, ESTA members £35, Non- members £48 (this fee includes the evening concert). Tickets for the evening event will also be available separately at £10 adults, £5 children.
If you'd like to be added to a list in case any student spaces become available please do email sheila@estastrings.org.uk
Tea, coffee and soft drinks and biscuits will be available. A buffet lunch will be provided for teachers, students to bring a packed lunch.
Throughout the day there will be the opportunity to speak to instrument makers and repairers and shop for music sales and accessories.