Barnes & Mullins upgrade online experience for trade customers
Posted: 17/05/2018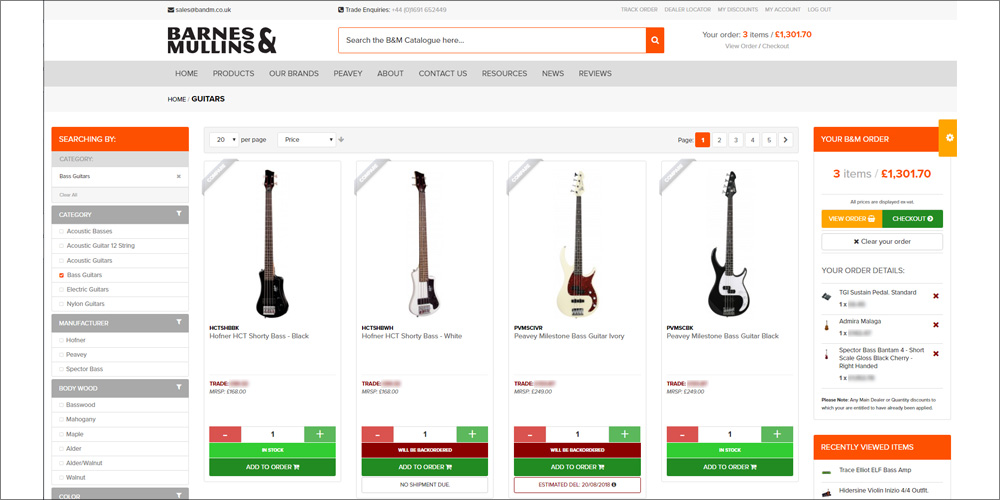 "The B&M online portal has undergone significant changes and now features advanced functions that make it easier for B&M customers to order online and manage their account. "
"I'm really proud of the advances our in-house team has made." says Alex Mew, B&M's marketing director. "One of the biggest improvements is the direct link between online orders and our backoffice system. Essentially this reduces the time it takes your order to get from website to warehouse, thus making the online order process the most efficient it has ever been."
The efficiency of ordering isn't the only improvement however. Barnes & Mullins have also made some of the most common enquiries answerable online.
"In your account dashboard," Mew continues, "you will now see a link to backorders – so you can see which product despatches are still outstanding, and where available, when those products are expected to arrive back into stock. Customers can also see their last 12 months of orders, their current order process status and despatches along with tracking information per shipment."
These account management improvements come in conjunction with several stylistic changes to the front end of the site, showing ever more information relevant to both consumer and trade customer.
These include:
A new, full screen layout with always visible 'order pad'
Clearer stock level indicators
Delivery dates for out of stock products
Personalised prices that reflect individual retailer's main dealership status for a given brand or set of products
Quantity discounts on sets of products
Special clearance deals on B-stock, ex-demo or discontinued items.
Consumer testimonial reviews of products taken from brand registration data
Music Press Reviews linked from all relevant products
For a more detailed breakdown of how to use the B&M website, and its functions, please visit: https://www.bandm.co.uk/how-it-works
Barnes & Mullins' updated website is now live, but as always, the B&M sales desk is on hand to help and answer any queries on 01691 652449.