Barnes & Mullins - Our History
Barnes & Mullins are a TRADE ONLY distributor representing some of the biggest musical brands available. We supply these instruments and accessories to hundreds of music stores around the UK and Ireland.
We do not sell direct to the public, but you can find your local dealer for any of our distributed brands by clicking on the 'Dealer Network' menu heading above.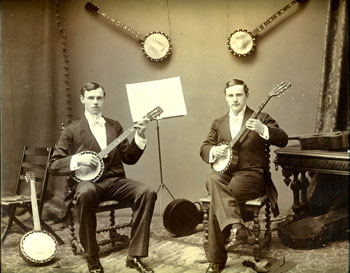 Pictured: S. Bowley Barnes & Albert Mullins
Our Origins
In 1894, Mr Albert Mullins and Mr S. Bowley Barnes started "The Jo", their famous musical instrument journal.
Specialising in all things banjo, they soon began manufacturing their own banjos as well as importing many other instruments. The original Barnes and Mullins banjos are still sought after today, with collectors seeking them out all over the world. .
Sadly in 1914 at the age of 40, Albert Mullins drowned when the 'Empress of Ireland' sank on the St Lawrence River. He was on the home leg of a 2 year sales trip.
Bowley Barnes continued the business thereafter, and what he had started with his partner years earlier in Bournemouth now moved to Rathbone Place, London.
In 1976, Mark Barnes – son of Bowley Barnes – moved the business to Grays Inn Road, Bloomsbury. Sadly in 1986, Mark Barnes died. He was greatly admired and respected by employees and customers alike who were quick to tell of his fair and generous nature.
In 1999, Bruce Perrin – a Director since 1986 – became Managing Director and moved the business from London to the current location - Grays Inn House - a modern 46000sqft warehouse and office facility in Oswestry, Shropshire.
Bruce Perrin says "We are excited about the future and are constantly looking at ways to innovate and evolve, yet Barnes and Mullins has always endeavoured to put the customer at the top of its priority list".
Present
As of July 2009, Bruce Perrin and former B&M Sales Director Brian Cleary successfully achieved a management buy-out of the Barnes family, bringing the previous 2 years of uncertainty to a positive conclusion. Perrin and Cleary now hold the positions of Joint Managing Directors and are looking forward to the new focus this reformed partnership will bring.
To all of our customers, from all of us at Barnes & Mullins - Thank you!
Bruce Perrin & Brian Cleary
Managing Director (Joint)